Dojo Mode is a new feature that players can receive for free by linking their account to Capcom's Street Fighter site.
Doing this will give you the free Dojo stage. You will be able to customize the background of your Dojo with tons of different objects ranging from plants to snowmen to cars. You will also be able to join other Dojo communities.
Hit the jump for the trailer and additional info.
Dojos are community hubs that require a player to be a 'Grand Master' who manages the Dojo.  The Grand Master can name the Dojo, set a Dojo Emblem, write about the Dojo, set the number of players allowed in, and decide who is allowed in. The title of 'Grand Master' can be given to any member of the Dojo at any time.
Joining a Dojo will allow you to see fellow members, rankings, profiles, and their favorite character.
To obtain background objects to customize your Dojo you can use Menat's Dojo Fighting Chance. Dojo specific items will be completely separate from the regular fighting chance that can give character colors and costumes.
Some objects will require specific achievements to unlock.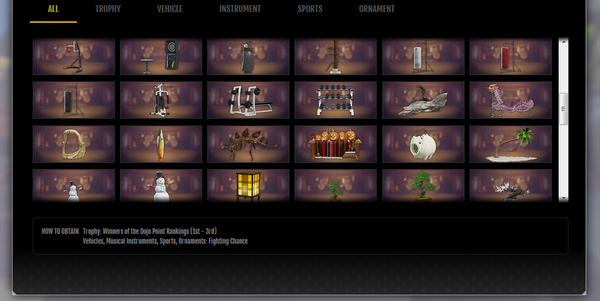 Players can also earn objects by placing high in the monthly Dojo Rankings. Dojo ranks can be increased by playing Arcade, Survival, Extra Battle, Ranked Match, Casual Match, and Battle Lounge. Basically, if you are playing the game you are earning points for your Dojo. If a Dojo ranks high enough for special rewards, all members of the Dojo will receive the reward.
Source: Capcom Unity